What is the process of becoming a Daybreak member?
The responsibility to decide whether you are a good fit for Daybreak Cohousing is a personal one. We recommend that you visit Daybreak at least three times before you make an offer, or sign a rental agreement. Make plans to:
Schedule a one-on-one tour with our Membership Team
Come to a happy hour
Join us for dinner
Roll up your sleeves and join us for a workday
Attend and observe our monthly plenary
After your offer has been accepted, you will be given access to browse our intranet, read meeting minutes, and if questions come up, send us an email and we will do our best to find an answer for you.
How are new members supported?
You are assigned a resident buddy to answer questions and concerns, and support the logistics of moving and transitioning
The Membership Team arranges an orientation session
Invitations are given to attend dinners, potlucks and other events
Opportunities are offered to share knowledge and skills on workdays
You are encouraged to visit standing team

 

meetings and decide how you will participate in our community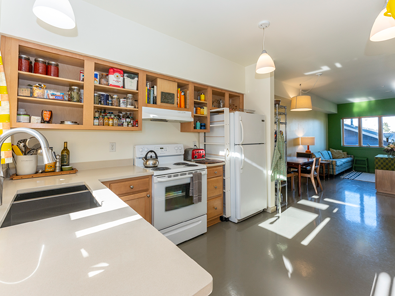 Unit 311: $315,000
PENDING
It'll be easy to call this cozy oasis home in our welcoming multigenerational community. Located on the top floor, overlooking our maple in the courtyard and garden, this townhouse style condo has an abundance of charm and amenities for comfortable living. When walking in, you are greeted by an open plan living space. The kitchen and living room are filled with a glow of natural light and cooling breezes from the plentiful north and south facing windows. In addition to the full bath on the main floor, you'll find a second full bath upstairs with two generous bedrooms—enough space to grow and entertain. The unit has an unusual amount of storage for a condo this size as well as a separate storage area.
840 square feet
For more photos and information visit the listing.